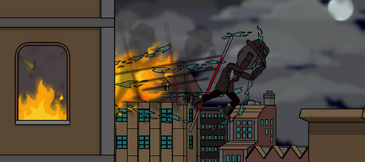 Superhero name: Nightmare
Real Name: Martha Walker
Age: Mid-twenties
Birthday: June 22nd
Hometown: Mathog City
Current Residence: Mathog City
Powers: Expert deductive abilities, a staff, electric gloves.
Bitstrips Series:
Martha had a fairly basic life, and she had always expert deductive abilities. When Sam Littolite, Nico Retolovan's former butler, died, Nico put adds out in the paper for a new butler. Martha applied, and she became his butler. However, very quickly she discovered his alter ego as Scorpio, and worked with him as the person helping out at home. She would help coordinate using his suit cam, and just be there to help out. She was also the one who advised Nico to not kill, in order to make himself better then the rest. After The Scorpio Incident, she inherited Nico's property. She went to the Scorpio appreciation event that was being held for his efforts to save the city from enslavement. Here, she told everyone Scorpio's alter ego; Scorpio, because she believed he was dead and it didn't matter.
Superhero Career
Edit
Once Scorpio had died,
Ad blocker interference detected!
Wikia is a free-to-use site that makes money from advertising. We have a modified experience for viewers using ad blockers

Wikia is not accessible if you've made further modifications. Remove the custom ad blocker rule(s) and the page will load as expected.